Surrounding René Teil
Index of names referenced

Académie Julian: private school of painting and sculpture founded in Paris in 1867 by the painter Rodolphe Julian (1839-1907). It remained famous due to the number and quality of artists that studied there during the great period of upheaval in the arts at the beginning of the 20th century, including, amongst others, Dubuffet, Duchamp, Villon, Vuillard and Matisse, and also Roger Limouse, Jules Cavaillès. Read more.
Assailly d' Gisèle: writer, journalist, President of Editions Julliard from 1962 to 1964. Read more.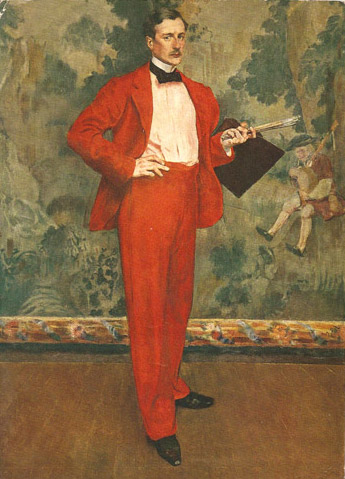 Baignères Paul-Louis (1890-1945): son of Arthur Baignières, a critic for the Gazette des Beaux Arts publication. Arthur Baignières had close ties with Fromentin, Ricard, Bonnat and Gustave Moreau. Paul studied at the Lycée Condorcet before expressing his desire to devote himself entirely to painting. He had his father's support, but his mother forced him to take the Polytechnique entrance examinations at the Ecole Sainte Barbe. He only remained there for eight months and at eighteen he performed his military service as a conditional recruit then entered an unaffiliated Academy where he studied under Bonnat and experienced working with live models for the first time. When this Académie closed its doors one year later, Paul Baignières went to the Académie Gervex. He indicated that Humbert and Carrière provided intelligent guidance and advice during evening classes. Paul met and befriended painters such as Maxime, Dethomas, Zuloaga and Leheutre, who became a famous etch artist and also suggested that Paul attend the Gustave Moreau studio. Paul exhibited a small canvas of a young woman in a rocking chair, the quality of which was noticed by Gustave Moreau, who accepted him into his studio. In 1934 this painting was purchased by the Luxembourg during the exhibition of the fiftieth anniversary of the Indépendants.
Matisse, Marquet, Rouault, Hollbauer, Duchemin, Bussy, Flandrin and Evenpoël are a few members of this group of students and Paul became especially close with Evenpoël and Rouault. He is also linked to Desvallières and Vuillard. Paul Baignières exhibited at the Salon d'Automne, the Salon des Tuileries, at the Indépendants, completed numerous portraits after the First World War, in which he fought and was decorated with the Croix de Guerre (Cross of War) and the Legion of Honour. He became a set decorator and was relatively successful. Evenpoël painted an extremely beautiful portrait of Paul Baignières "the man in red", a portrait that was given as a gift to the Musée de Bruxelles. His portrait was also painted by Jacques Emile Blanche and Vuillard.
Baignères Jean (1902-1982 ): son of  Paul-Louis Baignières. He admired his father, an artist painter, a great deal, and at a very young age became aware of artistic expression in all its forms. Jean Baignières would have liked to launch a literary career. After having obtained his diploma from the Ecole des Sciences Politiques, Baignières searched for his calling for several years. His work at the Compagnie Algérienne in Paris, Oran and Tlemcen, then with the Homberg Group and other companies until 1940 was too far removed from his aspirations to be of much interest. He fought in the Second World War for two years as a second reservist, retiring in 1940. In 1944, encouraged by Segonzac, he decided to open a small gallery at 142, Boulevard Saint German. Funding for this venture was provided by Jacques Bouchayer, one of his friends, a few relatives and a friend of the painter Constant Le Breton.
A core of enthusiasts was formed and the gallery exhibited Le Breton and André Marchand, among others. The dealer Carré suggested to Baignières that he represent the painters that were later to be known as the "Painters of Poetic Reality": Brianchon, Oudot, Caillard, Cavaillès and Planson.
Baignières did not renew the lease on the gallery; instead he prioritized the organization of exhibitions in large Parisian galleries, in particular André Weil's, in the galleries in the large towns outside of Paris, in Switzerland, Germany, England and also in New York.
He organized exhibitions for the artists Poncelet, Fournier, Vénetien, Bouneau, then Aicardi, Boeringer, Boullet, Brivot, Diaz, Grosperrin, Muslin, Schintone, René Teil, as well as exhibitions that Brayer and Rhoner participated in. He was Brasilier's and Guiramand's first dealer.
Baignières was a staunch supporter of painters whose intellectual qualities he appreciated as much as their artistic sensibilities, maintaining a sound distance from the speculative character often associated with the art world at that time.
Bazin  Hervé (1911-1996): French writers. Read more.
Buffet Bernard ( 1928-1999): French painter.  Read more.
Beucher Renée: born in Paris in 1953, granddaughter of the painter René Teil, she married Daniel Beucher in 1973. Headmistress of a primary school from 1972 to 2002, today Renée lives in Gers and is the steward of René Teil's body of work, which she inherited.
Bonnard Pierre (1867-1947): French painter. Read more.
Boudin Eugène-Louis (1824-1898): French painter, considered to be one of the original Impressionist painters. Read more.
Brancusi Constantin (1876-1957): Rumanian sculptor, who spent most of his career in France. Read more.
Brasilier André: French painter born in 1929: Awarded the Premier Grand Prix de Rome scholarship in 1953. Read more.
Brayer Yves (1907-1990): French painter. Read more.
Brianchon Maurice (1899-1979): French painter, attended the Ecole des Beaux Arts in Bordeaux in 1917. After a short time spent at the Ecole des Beaux Arts in Paris, he entered the Ecole des Arts Décoratifs at age 19. In 1920 he exhibited for the first time at the Salon d' Automne, where he was immediately elected as a member. After leaving the Arts Décoratifs, he shared a studio with Legueult.  In 1924 he was the recipient of the Prix Blumenthal. He was a member of the Painters of Poetic Reality Group. Read more.
Caillard Christian (1899-1985): French painter. He entered the Académie Billoul in 1920 where he befriended Eugène Dabit. He was a student of the painter Dutreil, who encouraged him to travel. After a productive trip to Morocco, following in the footsteps of Delacroix, he travelled around the world following Gauguin. He was a member of the Painters of Poetic Reality Group. Read more.
Cavaillès Jules (1901-1977): French painter. He started out as a draughtsman in the mines, attended the Académie Julian from 1922 onwards and shared a studio with Roger Limouse. Awarded the Blumethal Grant in 1936 he is one of the painters in the Painters of Poetic Reality Group. Curator of the Toulouse museum, then professor at the Ecole Nationale des Arts Décoratifs, he exhibited in numerous galleries in London, New York and participated in the Biennale de Venizia (International art exhibition in Venice). Read more.
Cézanne Paul (1839-1906): French painter. Read more.
Chapelain-Midy (1904-1992): French painter, lithographer, designer. Read more.
Clairin Pierre-Eugène (1897-1980): French painter. Read more.
Corot  Camille (1796-1875): French painter. Read more.
Courbet Gustave (1819-1877): 19th century French painter, leader of the Realist movement. Read more.
Chardin Jean Siméon (1699-1779): 18th century French painter. Read more.
Degas Edgar (1834-1915): French painter. Read more.
Delacroix Eugène (1798-1863): French painter. Read more.
Derain André (1880-1954): French painter. Read more.
Dornand Guy (dates unknown): art critic for the "Libération" newspaper. Created in secret during World War II, Libération, in the tradition of Combat, which was created under identical circumstances, wielded an important moral and intellectual viewpoint (inversely proportional to its economic success) until it folded in 1964. During all that time, Guy Dornand used his talents there as the art and literary critic, providing active support for the "young artists" of the Ecole de Paris. This group of painters that began their careers just after the War were also called "La nouvelle Ecole de Paris" (The New School of Paris) by other critics (André Warnod, the Figaro newspaper critic, created the term Ecole de Paris in 1926). Author of several works Roger Somville et le Nouveau Réalisme (Roger Somville and New Realism (Brussels, 1966)); Jon-Kee (Pierre Cailler publications, Geneva 1960): Eloge de Georges Oudot (Praise for Georges Oudot) (Manuel Brucker publications): Utrillo (Gibert Jeune publications) Guy Dornand also published numerous introductions and reviews of paintings of his era.
Dunoyer de Segonzac André (1884-1974 ): French painter, etch artist and illustrator.  Read more.
Dufy Raoul ( 1877-1953): French painter. Read more.
Dufrenoy Georges (1870-1943): French painter. Read more.
Durand-Ruel Paul (1831-1922): French art dealer and gallery owner. Read more.
Géricault Théodore (1791-1824): French painter. Read more.
Giono Jean (1895-1970): French writer. Read more.
Goujon Denise (1909- 1965): born in Chalon-sur-Saône, she met René Teil in September 1929 when she was a substitute teacher at Brie Comte Robert, where he was also working. They married on 11th August 1930 in Chalon-sur-Saône. She taught at the Ecole de la Villeneuve in Chelles from 1933 to 1964. They retired to Lancié in 1965; she died in Lyons that same year.
Hartung Hans (1904-1989): Franco-German painter. Read more.
Hockney David: born in 1937, English painter and photographer. He spent most of his career in the US. Read more.
Jacquemot Charles (1879-1946): French painter. Although forced into scientific studies by his family, he nevertheless spent a short amount of time at the Académie Julian. His vocation as a painter was only able to really flourish after the First World War. He resumed his artistic endeavours through wood engraving and the illustration of several poetry books. Armed with canvas and brushes, he tried his hand at social realism, industrial landscapes and wastelands. But it was through still life and landscapes that he realized his full potential and expressed his talents to their fullest: "His dreamy, thoughtful, balanced mind, at its best when working at a slow pace, focused on observations and accuracy, as well as analysis. His scrupulous craft, occasionally excessively meticulous, but with exemplary accuracy served him admirably.  As a landscape painter, he created subtle landscapes on the banks of the Truyère, Grand Morin and Marne rivers, Mediterranean and Breton hillsides, in Normandy, Provençal and Averyon countrysides. He was able to convey the character in a controlled fashion.
Jacquemot's still life compositions bring to mind the Masters of Reality of the 16th and 17th centuries, as well as Chardin. Just like these artists, Charles Jacquemot gave way to the poor objects that form a part of our everyday lives. The plate, the bowl, the fruit bowl and its fruit, the family soup tureen, the glazed jug are the objects he prefers and naturally and tastefully constructs. He also paints musical instruments: violins, mandolins and guitars. He masterfully recreates their substance and meticulously studies their tiniest luminous reflections" (extract from George Turpin's 1946 biographical review from the Salon d'Automne). Charles Jacquemot was the secretary of the "Comité des Indépendants "(Committee for Independent Art); he was a member of the Salon d'Automne and had an active role in the Salon des Tuileries since its foundation. In 1922 he also organized the Pittsburgh exhibition of French art.
According to the Bénézit dictionary (1976 and 1999 editions) Charles Jacquemot presented works at exhibitions held in Dusseldorf, Amsterdam, Stockholm, Brussels and Tokyo. In 1911 he created the Groupe libre (free group), including François Desnoyer, Jean Peské and Matheiu Verdilhan. He was first noticed for his impressionistic tendencies prior to producing compositions of constructive realism. His still life compositions drew attention with their beautiful colouring. His works can be found at museums in Le Havre, Honfleur, Tours, Tunis and Ottawa.
Lacruz Marc: born in Lyons in 1948. He began his career in fine arts with a framing studio in Belleville-sur-Saône, which would later become a gallery. His meeting and subsequent friendship with René Teil  led him to organise several exhibitions for him. After the death of Jean Baignières in 1982, he became René Teil's final dealer.
Lanoux Armand (1913-1983): French writer. Read more.
Legueult Raymond (1898-1971): French painter. Member of the Painters of Poetic Reality Group. Read more.
Limouse Roger (1894-1990): French painter. Student of P.-A. Laurens at the Académie Julian, where he met Cavaillès. Awarded the Prix des Vikings in 1933 he was able to visit Norway and established a taste for travel. His body of work was enhanced by Dutch, Belgian, Moroccan and Mediterranean landscapes. After having become attuned to Bonnard's influence, he attempted to follow in the footsteps of Matisse. Also, through instruction he favoured an aesthetic minimalism achieved through work that emphasized extreme simplicity as much as intense colour. Limouse belonged to the group known as the Painters of Poetic Reality.
Lorjou Bernard (1908-1986): French painter.  Read more.
Marx Claude-Roger (1888-1977): French critic and art historian. Read more.
Moreau Gustave (1826-1898): French painter. Read more.
Man Ray (1890-1976): American photographer. Read more.
Minaux André (1923-1986): French painter. Read more.
Marquet Albert (1875-1947): French painter. Read more.
Matisse Henri (1869-1954 : French painter. Read more.
Milleret Bernard (dates inconnues): French sculptor, designer and official illustrator of the Nouvelle Littéraires (French periodical).
Montagne Christiane (1915-2004): René Teil's second wife. They had no children together.
Othon Friesz Achille-Émile or Othon Friesz (1879-1949): French painter. Read more.
Oudot Georges (1928 – 2004): painter and sculptor. Student of the Besançon Ecole des Beaux Arts, and then the Paris Ecole Nationale des Beaux Arts, he painted numerous portraits, including those of Juliette Greco and Edgar Faure. He was the recipient of numerous awards: the Prix Fénéon for sculpture, the Prix National des Arts, the Prix de la Jeune Sculpture (Yong Sculpture Prize), the Prix Modigliani for drawing, the Prix Biennale for sculpture, recognition awarded by the Prix de la Critique (Critic's Award) Jury for his entire body of work.  Read more.
Pablo Picasso (1881-1973): French painter, originally from Catalonia. Read more.
Pascal–Levis André ( dates unknown): art critic for « les Artistes d'aujourd'hui » (Artists of today) review.
Planson André (1898-1981): French painter. Studied at the Académie Ranson in Paris. He received guidance from the landscape artist Paul Meslé. Recipient of the Prix Blumenthal in 1933, he dedicated his career to landscapes and nudes. He is one of the members of the Painters of Poetic Reality Group.  Read more.
Pollock Jackson (1912-1956): American painter. Read more.
Poussin Nicolas (1594-1665): French painter. Read more.
Renoir Auguste (1841-1919): French painter. Read more.
Rolin Dominique: Belgian writer, born in Brussels in 1913. Awarded the Prix Fémina in 1952. Read more.
Signac Paul (1863-1935): French painter. Read more.
Soulages Pierre: French painter born in 1919. Read more.
Teil André (1929-1986): f only son of Denise Goujon and René Teil, born 4th April 1929 in Chalon-sur-Saône. Married Gisèle Gabard in 1951. One daughter, Renée, who today is Renée Teil's sole heir.
Terechkovitch Kostia (1902-1978): French painter originally from Russia. Belonged to the group known as the Painters of Poetic Reality. Read more.
Titien ou Le Titien (1490-1576): Italian painter. Read more.
Valadon Suzanne ( 1865-1938): French painter. Read more.
Van Dongen Kees (1877-1968): Dutch painter. Read more.
Vasarely Victor (1906-1997): French painter originally from Hungary. Read more.
Vercors (1902-1991): French writer. Read more.
Vlaminck, Maurice de (1876-1958): French painter. Read more.
Vuillard Édouard (1868-1940): French painter. Read more.
Warhol Andy (1928-1987): American artist. Read more.
Waroquier Henry de (1881-1970): French painter, sculptor, etch artist. Read more.